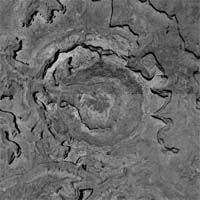 I just found out last week, quite by accident, that there's a huge meteor impact crater not far from where I live. On my way back from Grand Junction last Wednesday, I marked a couple of waypoints on my GPS near interesting-looking areas. After I got home, I downloaded the waypoints to ExpertGPS and looked at the areas on the topo maps and satellite images. I zoomed out from the satellite photo and saw an odd formation called Upheaval Dome.
It's in Canyonlands National Park (there's an even cooler picture here), about a two hour drive from here. People used to think it was simply an eroded salt dome, but a study funded by NASA shows that it's probably a meteor crater.
I've talked Traci into going there with me in April or May, when the weather warms up a bit, for a day-long hike around the crater. I'd even like to camp there overnight, but I'd be pushing my luck.