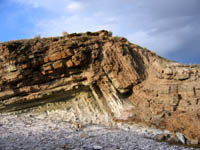 Our plans for this past Sunday turned out to be way too ambitious. Our trip into the Swell lasted more than 12 hours, and we only did about half of what we'd planned. My family was in our truck, and my sister's family came along in their Bronco. I had to stop a few times to turn the hubs in and shift into 4-low, but Mark's Bronco plowed through everything in 2WD. We didn't find any dinosaur footprints, but I may go back some other time without any kids to try and cover more ground.
There was a lot of interesting stuff in the area. We saw some wild burros, some old mining equipment, and I even found an old mining claim–it must have been about 50 years old–inside a glass jar, buried under a pile of rocks. My favorite part of the day was a short hike to a geocache on Sand Bench, which consists of sandstone from the Curtis Formation. This type of sandstone is my favorite (and the kids' favorite too) of the entire San Rafael Swell because the rock formations are just so fun to play on.
We spent all day Sunday south of the San Rafael River, but we're planning on finding all the new geocaches north of the river (mostly in the Buckhorn Wash area) this Saturday. Unfortunately it's Easter weekend and the place will be a zoo. I've been down there before around Easter and there were camp trailers parked all over the sides of the road, and ATVs and other vehicles literally causing traffic jams on the dirt roads. Luckily the places we're going are mostly off the main roads, but we'll still have to travel on the main roads part of the time.