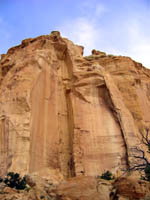 I spent today placing caches in the San Rafael Swell with a sheriff's deputy from Sanpete County. I met John (and his dog, Sabrina) at 8:00am just off I-70 near the Wickiup, then hopped in his Grand Cherokee and we took off. We drove all over the place, including the worst jeep trail I've ever been on–good thing he apparently doesn't mind beating up on his Jeep. Between the two of us we placed nine caches and saw a lot of country. I love that area, and I'm looking forward to spending four days camping there in a couple of weeks. We'll be camped at a good central location for finding a lot of other caches that I've wanted to find for quite some time.
On my way down this morning, I took US-6 because it was faster, but on my way home I took SR-10 just so I could check out the other side of I-70. I wanted to completely avoid towing my trailer up or down Spotted Wolf Canyon for the upcoming camping trip. It's so steep and winding that there are several runaway truck ramps, and a big pull-off at the top for trucks to pull over to check their brakes. After checking out I-70 between the Wickiup and SR-10, however, I've decided that it would be a waste of time taking that route on the way to our campsite. It's not quite as steep, and definitely not as winding, but the much longer drive would eat too much fuel. Unfortunately, I'll still have to drive home that way to avoid burning up my brakes.
Other than today, things have been rather blah around here. For once, I don't really have any projects going on–that's not to say I don't have any projects I should be doing. A couple of weeks ago, I was getting antsy to be doing something, and now I'm ready to kick back and do absolutely nothing.