Yes, it has been a long time since I updated my website. I just uploaded 32 new pictures from last weekend, which was probably the best weekend of my entire life (so far). Our camping trip to Justensen Flats in the San Rafael Swell was phenomenal, so much so that we didn't want it to end. Going back to work this week was a real bummer.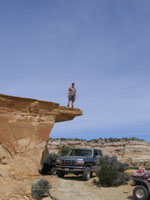 On Friday of last week, we went on a long 4×4 drive to several geocaches south of Justensen Flats. In our convoy there were several ATVs, one Jeep Grand Cherokee, and two long wheelbase 3/4-ton trucks (mine included). It was a challenge keeping up the ATVs, and at one point we had to stop and pile up some rocks to keep the trucks from high-centering on a steep drop-off. I've never had a more fun and challenging time 4-wheeling, but having some good friends there made it even more fun.
On Saturday, we hiked to the top of the San Rafael Knob, which is the highest point in the San Rafael Swell. I had a headache in the morning (probably from staying up late and getting a poor night's sleep), but I didn't let that stop me from hiking the Knob. It was a difficult hike, requiring ropes to get past two really steep parts. Once on top, the views were amazing. Afterwards, we hiked to the top of a hill called Flat Top, which was much easier than the San Rafael Knob, but my leg muscles were burning because of the earlier hike up the Knob. Traci and the kids stayed at camp while I was on those two hikes, but they found a few nearby geocaches and kept busy with another couple of families that also stayed behind. That evening we had a potluck dinner, and it was some of the best food I've eaten, which was surprising because we were all out camping. Deep-fried turkey, lasagna, baked beans, sauteed mushrooms, barbequed chicken, and all other manner of good things were eaten by all.
On Sunday, we drove down to the Mussentuchit area with Sam and her family. It was one of my favorite parts of our trip. There were sand dunes in the area where I couldn't help but climb around like a little kid. I unloaded all my pockets, dropped my handgun and my sunglasses in the truck, and climbed all over the sand dunes. Never has so much sand looked like so much fun. We placed a couple of geocaches in the Mussentuchit area, not expecting anybody to find them for a while.

Well, Monday rolled around, and there were still a lot of people at camp who had already found all the geocaches around Justensen Flats, so they decided to go find my two caches in the Mussentuchit area. We led the group west on I-70, then south on the dirt road leading to the caches. It was a fun experience, 'cause normally I'm quite content to follow everybody, but this time I was in the lead. We played in the sand and hiked around just like I'd done the previous day, but it was more fun with a larger group.
On Tuesday, we attempted to get my truck down the Eva Conover road, but after just a short drive Traci and I realized that it was only suitable for ATVs. We turned around and found another new geocache closer to camp called "Twisted Sister Meets Big Brother." It was a fun drive, and an even more fun hike with the kids.
That was the last of our fun, 'cause when we returned to camp everybody else was pulling out. We were the last ones to leave, and it was worth every second that we stayed. I don't doubt that we'll attend the San Rafael event in the fall, and if the last few events are any indication, this one should be even better than the rest.