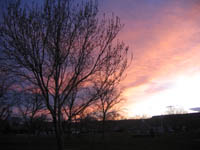 I took Friday off work, and we headed down to St. George for a weekend of geocaching. About 700 miles later, I'm finally home and starting to relax. We got into St. George somewhat late on Thursday evening, so we just ate dinner at the Wendy's near our motel, then spent the rest of the night planning out our weekend. The St. George Travelodge was a complete dump, but we spent the majority of each day out caching, so it didn't really matter. We cached all day Friday, but didn't find nearly as many caches as we'd hoped, and got several DNFs. Saturday, we went to breakfast with at least 50 other geocachers, then headed up to Sigurd to spend time with some friends and do a few more caches. After arriving home Saturday night, we just unpacked our things and crashed.

This morning, Traci was gone (to church [hahahah]) before I even got out of bed, but when the kids woke up, I fixed them breakfast, got them dressed, then we headed down into the San Rafael Swell. Somebody had placed a new geocache down there last week, but I didn't have time to find it then. I suppose I could have driven down quickly on Wednesday afternoon to find the cache, but I'm glad I didn't because the area was so awesome, it required several hours just to explore and enjoy it. It was only a few miles south of White Rocks and the main gravel road (where I've been dozens of times), but I'd never seen such a place before. The kids had a blast climbing all over the rocks, and I had fun 4-wheeling on all the exposed sandstone.
After finding that cache, we re-hid another cache that is a moving cache, which means after finding it, you can re-hide it somewhere else. This cache type is no longer allowed on geocaching.com, but the existing ones are still allowed to exist. I ended up placing it in an area where I'd wanted to visit for quite awhile but never bothered to take the time. There is a huge house-sized boulder there, with several holes in it that go straight through to the other side. If I had realized before that you can drive right to it, I would never have hesitated to visit it.
I've only now had the chance to sit for awhile and do nothing, and it feels good. As draining as a weekend away from home can be, I expect I'll be doing something similar next weekend. There's talk among a group of geocachers about a trip to Capitol Reef National Park to do some hiking in the coming weeks. Since geocaches aren't allowed inside any National Park Service-managed lands, it will be strictly hiking, but I'm sure we'll do some caching outside of the park. Besides that, all I've got to look forward to is hitching on to the trailer for some camping. The weather is perfect for it now, since the snow has just barely melted from my driveway while I was gone to St. George.